Wrestler Name:Jason Campbell.//Real:Jason Campbell.
Home Town:CO,Donegal,Ireland. Nationality : Irish//Israeli.
Disposition:Face.
Height:5ft 2in.
Weight:200 pounds.
Picture : [img]
Entrance Theme:Omen, The Prodigy.
Early History: He was born In CO,Donegal-Ireland to an Irish Mother and Israeli Father. He stunned his friends as early as the age of 5 with HUGE stunts jumping off roof's(and occasionally through them-lol).He joined a small Backyard federation in his local area to earn money for his Hard Pressed, LARGE family. When he arrived in Blackpool,England at the age of 8 he was always cast out from the gangs of the so called "Cool" kids. And thats when he changed. He changed himself to fit in acting harder than he actually was. At the age of 12 in High School called Baines he got into a fight over a girl by a sly coincidence with a member of this federation. He lost gettin Chokeslammed into a Girdered Bench. He had to have 2 months of Surgery including Electrodes , Radioactive and Physiotherapies.He recovered went back to running and athletics.Which he had been told he might not be able to do again he realised he had to build up his strength to win these fights.He did and then had a fight with a different kid over the same girl.He won this time but in effect-losing out, as he got in a brush with the law.Then he met Innocent or King Neli as he is widely known who gave him his first big break in a federation-ATPWrestling. He VGM'ed for 3 seasons here, gaining a lot of experience. Feuding with Frozen King for a lot of the time.
He then moved onto X-Effect wrestling, where he VGM'ed, for the one season it was open, but it closed after the GM (and long-time friend of mine WBE) couldn't GM anymore, as it was mostly me and him that did all the work. Jason Campbell won the Eastern Bloc Championship at the only PPV, Day of Wreckoning versus Eclipse in a Cage Match. I also wrote the Custom Match which was the Battlers Brawl, a Five-Man double cage match, which i can re-write at any point

.
(N.B:Mostly True, Was born in England but I am Irish well Half.My school is correct.Have done some HUGE stunts off roofs and have fell through a Garage Roof.Have had to have surgery about 3 times due to trampoline,Stunts,Sports injuries. No REAL fights over girls but some small ones, Record-W-4 L-1 BUBT(Broke Up By Teachers)-2 , LOL).
Nickname/'s:Electrode , Livewire , The Exception.
Finishers:
Chernobyl Disaster(Elevated Rock Bottom)(DD).
Exception (Boston Crab, well sorta')(SUB).
Electrocution (Spear)(PIN).
Trademarks:
Electronic Breakdown (Can't remember what any of these are anymore

)
Aftershock Grenade (See Above).
Modified Real Deal (HAHA).
Championships: 1 x ATPW Tag Team Champion w/ Underkane (Season reign).
1 x ATPW Intercontinental Champion (Season and a Half reign).
I have Merchandise too, If it is of need: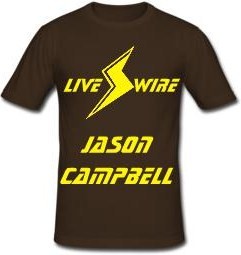 And by the way, I'm too cool for the Back of T-Shirts, although i could do them if needed